One Good Knight
Edit
One Good Knight is the second book in the Five Hundred Kingdoms series by acclaimed fantasy writer Mercedes Lackey. It was published in 2006 by Luna Harlequin.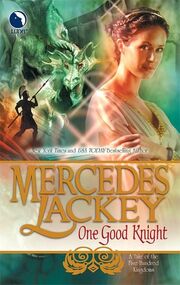 Plot Synopsis
Edit
"Traditionally, marauding dragons are soothed only by a virgin sacrifice. And so practical-minded Princess Andromeda -- with the encouragement of her mother's court -- reluctantly volunteers to do her duty, asking only for a sword to defend herself. Well, her offer is accepted, but the weapon isn't forthcoming, and so Andromeda faces the dragon alone.
Until a Champion arrives to save her -- sort of. Sir George doesn't quite defeat the dragon, but as Andromeda finishes rescuing herself she discovers that beneath the Good Knight's well-meaning though inexperienced heroics lies a further tale . . .
Still, Andromeda can't leave her seacoast country in further jeopardy from the dragon's return, and so she and . . . er . . . George join to search for the dragon's lair. But even -- especially -- in the Five Hundred Kingdoms bucking with Tradition isn't easy. It takes the strongest of wills, more than a hint of stubbornness, quick thinking and a refusal to give up, no matter what happens along the way. "
Inspirations and Influences
Edit
The book draws heavily on the stories of Greek myth. In addition to Acadia being styled after ancient Greece, the characters of Andromeda and Casseiopa share the names of their Greek myth counterparts. The book also draws heavily from the several world traditions of dragons.
Connections to Other Books In The Series
Edit
The Fairy Godmother - Elena and Alexander play a prominent role in the book, being the ones who send Gina to the Kingdom of Acadia to defeat the threat of the Dragon. At the conclusion of the book, Elena arrives in Acadia and presumably becomes Acadia's Fairy Godmother in the process. She is also the one who changes Gina into a dragon and Periapt into a human at the books conclusion.
Characters, Creatures, and Other Oddities
Edit
Characters
Kingdoms
Items